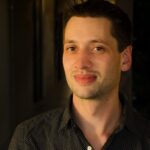 Ryhan Butler has studied classical astrological techniques with an emphasis on medieval astrology for a decade. He has lectured locally and as a part of national conferences, working to spread the techniques of medieval astrology to those who would otherwise not encounter them or may not immediately see their value.
In 2014, Ryhan successfully completed Lee Lehman's Master Course in Medical Astrology and began his studies in herbalism and the relationship between medicinal plants and the planets and has received certification through the Herbal Academy. He is also an active member of the Association for Young Astrologers and served on the steering committee of the Association for Astrological Networking from 2015-2019.
---
Where Angels Tread: The Ruling Planet and the Soul
Astrologers have always been fascinated with trying to find the most important planet in a chart. Throughout history they have developed a small number of techniques in order to find this most elusive and significant planet. In this lecture, we'll explore the history and origins of these more popular techniques, how they evolved over time, and how they fit together with the Greco-Egyptian Guardian Daimon.