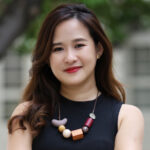 May Sim is the region's premier psychological astrologer, and is known for her dynamic personality, stage presence and a razor-sharp wit, drawing speaking engagements with audiences of hundreds at Facebook, Fortinet, Omega, RADO, Hansgrohe and government organisations like the Health Sciences Authority and E2i. She is the first Asian to graduate from the International Academy of Astrology (Cleveland, Ohio).
Founder of her own astrology academy based in Singapore, Selfstrology Academy, it is Asia's #1 Psychological Astrology academy, and has trained hundreds of astrologers around the world from as far as Brazil, Ukraine and Switzerland, to incorporate the Psychological Astrology Matrix in their practice.
---
Using Psychological Astrology in Consultation
With astrology increasingly used as a coaching and guidance tool, interest in psychological astrology has been on the rise. However, while focus has thus far centred on identifying psychological behaviours and patterns from the natal chart, there is considerably less emphasis on how to work with the client on their psychological profiles in the context of a real-life consultation. In this lecture, Singaporean astrologer May Sim introduces her consultation framework that outlines psychological Compensatory Behaviour, Short-Term Payoffs, Inherent Guilt and Ultimate Desires – and how astrologers can utilise these profiles to guide clients in personal empowerment and tangible outcomes.