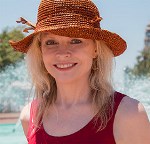 Jodie Forrest: Navigating the U.S. Pluto Return in Your Personal Birthchart
Reams of astrological writing have been produced about the first return of the U.S. Sibley chart's second house Pluto in the 28th degree of Capricorn, and that return is partile three times in 2022. Issues around the return have been building since Pluto's Capricorn ingress in 2008, which accompanied the economic crisis of that year. After Saturn's Capricorn ingress in late 2018, those issues have become more apparent and have accelerated. A nation's Pluto return is predominantly an outer-planet event, and many of its analyses focus on what that event might portend for the U.S. as a nation. What about the return's possible impact on individual citizens of that nation, or on people in close relationships with Americans?
Join Jodie as she discusses not only the return in general, but also how it may affect you personally according to the condition and placement of your natal Pluto, and specific coping strategies tailored to those conditions and placements.
Speaker
Jodie Forrest

Speaker

Jodie Forrest is a professional astrologer, writer, and teacher with a full-service practice who's worked with clients and students for over 36 years. A frequent contributor to astrological journals, she wrote the book The Ascendant, and co-authored (with Steven Forrest) Skymates I, Skymates II, and two synastry reports. Jodie travels in North America and Europe to teach or lecture on astrological topics, and she's an instructor at the online International Academy of Astrology. She's completing a book about solar arcs that's slated to appear in 2020. When not working, Jodie writes fiction, paints, and caters to her cats and her rose garden. She lives with her husband, Mark Tighe, in Southern California, where an uppity cast of her fictional characters competes for her attention. Please visit her online at her websites, jodieforrestastrology.com and deepspaceart.net.